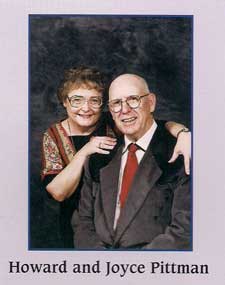 On August 3, 1979 Howard Pittman was determined to be dead in an ambulance on the way to the hospital. At that time he had an out of body experience, where angels took him to the spiritual world (the second heaven) where he was allowed to see many things. As a result of that experience, he has written 15 books, 27 audios, 14 days, all dealing with that experience and outlining the many things he was allowed to see, and the things he heard.
Howard O'Neal Pittman, 90 of Columbia, passed away on Wednesday, March 13, 2019 at the Asbury Hospice House, but his ministry is carried on by loving family members.
Mr. Pittman served with the New Orleans Police Department for 26 years starting with the motorcycle division, he started the first K-9 corp. retiring as the commander of the auto pound. Howard entered full time ministry as a evangelist after an experience on August 3, 1979 where he was called into service for the Lord. For almost 40 years, God carried him and allowed him to preach and teach God's message on nearly every continent around the globe. He was a wonderful man that impacted so many lives – at home and around the world. He will be greatly missed by all whose life he touched for the last 90 years.
He was preceded in death by his parents, Ephriam and Mary Etta Pittman; two brothers, Edward Pittman and Shelby Pittman; four sisters, Eula Armstrong Pierce, Myrtle Thornhill Stringer Kerley, Billie Merle Ginn, and Inez Cook Love; and one grandson, Justin Luginbill.
He is survived by his wife of 42 years, Joyce Pittman of Columbia; four daughters, Julie Wilson (Kenneth) of Columbia, Lisa Coker (Freddie) of Columbia, Colleen Luginbill of Columbia, and Veronica Wilborn of Columbia; two sons, Michael Bogle of Hattiesburg and Cassie O'Neal Pittman (Annette) of Slidell, LA; one brother, Horace Leo Pittman of Gulfport; ten grandchildren, Scott Oliver of TN, Jeremy Oliver (Rosemary) of Columbia, Jenny Lobre of LA, Stephanie Mahne (Keith) of FL, Amanda Bergeron (Lance) of Columbia, Margaret Goubler (Jason) of LA, Rachel Pittman of FL, Christopher Gravelle of Columbia, Steven Wilborn of Columbia, and John Garron Bogle of Foxworth; five great grandchildren, Parker Luke Oliver, Piper Oliver, Jacob Tyler Goubler, Hailey Lobre, and Hunter Lobre; and a host of nieces, nephews, cousins, and friends.